Clean Black Bean Brownies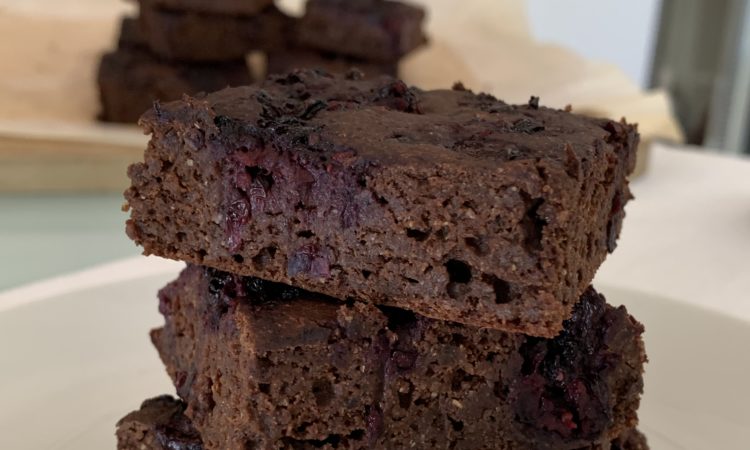 These are cakey and not very sweet. I LOVE them just as is, perfect for breakfast. I have added modifications if you prefer a sweet, fudgy version. They are processed sugar-free, gluten-free and vegan. Enjoy!
1 15.5 oz can of black beans
1 cup fresh brewed coffee
1 Tbsp melted coconut oil ( put it in the coffee)
3 dates, pits removed
1/3 cup maple syrup
2 flax eggs (1 Tbsp water + 1 Tbsp ground flax seed x 2)
3/4 cups cacao powder
1/2 cup buckwheat flour
1 tsp baking powder
1/2 tsp salt
1 cup berries heated to compote or jam
Preheat oven to 350 degrees. Line a baking pan with parchment paper.
In a blender on low to medium speed, blend the beans, coffee, coconut oil, dates, and flax eggs until well combined. Set aside.
In a medium-sized bowl, whisk together the cacao, flour, baking powder and salt until combined.
Pour the wet mixture into the dry and stir just until combined, but not over-mixed.
Pour the batter into the baking pan, and swirl dollops of berry compote or jam on the top of the batter.
Bake for 12-15 minutes, or when a toothpick inserted comes out clean. Allow to cool before cutting into squares.
Sweet and Fudgy Version
Same as above, with the following changes:
10 dates, pits removed
1/4 cup buckwheat flour
Tags :
Blck Bean Brownies
Brownies
clean eating
Clean rRecipe
Fitspo
gluten free
Healthy Cheat
Healty Treat
Plant Based
Protein Brownies
Recipe
sugar free
vegan