Coconut Hibiscus Cupcakes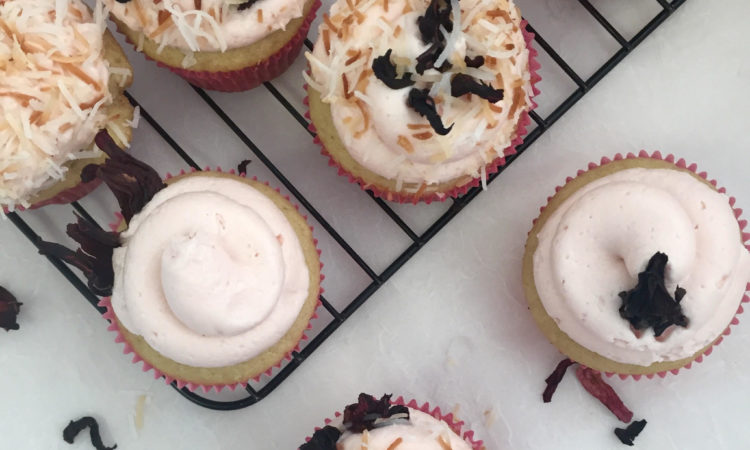 Summer is here, can you taste it?! I couldn't decide what to bake for The Covenant House this month, so I dug deep into my cabinets for inspiration. I found a bag of sweetened coconut flakes, and 4 bags of dried hibiscus. Score! Coconut and hibiscus compliment each other so nicely, I knew they would make a great cupcake. The cake is coconut, the buttercream is hibiscus and coconut. I topped them all off with toasted coconut and dried hibiscus, soaked in water to fluff them up a bit. They smell like a tropical island! I was so not ready to start Monday in my office. That reminds me! I booked a trip to Bali! I will share all the details of planning soon. In the meantime enjoy these tropical cupcakes.
Coconut Hibiscus Cupcakes 
1 egg
2 egg whites
2/3 cups vegetable or Coconut oil
1/2 cup coconut milk
1 teaspoon vanilla extract
1 teaspoon coconut extract
1 tablespoon apple cider vinegar
1 cup granulated sugar
2 cups all purpose flour
1 teaspoon baking soda
1/2 teaspoon baking powder
1/2 teaspoon salt
Preheat your oven to 375 degrees. Line 24 muffin tins with cupcake liners. I used bright pink for the Hibiscus, but anything or island like is fitting.
In a medium sized bowl with an electric mixer beat all wet ingredients. Add all dry ingredients and combine just until well blended, but be careful not to over mix. Scoop the batter into the tins evenly. I use an ice cream scoop sold as a cupcake batter scoop so the amount is just right, about 3/4 full. Bake for about 20 minutes, or until the cake has risen and is springy in the middle. Allow to cool.
Coconut Hibiscus Buttercream
1 cup unsalted butter at room temperature
1 cup butter flavored shortening
1 teaspoon coconut extract
4 tablespoons Hibiscus water (1 cup dried Hibiscus soaked in 1 cup hot water for 20 minutes or more)
6 cups Powdered sugar
In a large bowl with an electric mixer beat the butter and shortening for about 4 minutes, until smooth and fluffy. Add the extract and 1 tablespoon Hibiscus water. Mix until combined. Alternate adding 2 cups of sugar to 1 tablespoon of Hibiscus water. Beat well after each addition. If you find your consistency too thick add more Hibiscus water, too thin add more sugar. The color will be a very faint pink.
Pipe the buttercream onto cooled cupcakes, and sprinkle with toasted coconut and Hibiscus.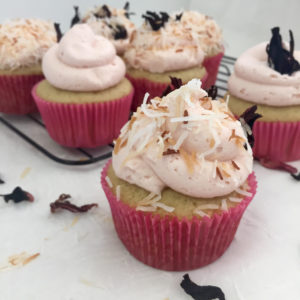 The smell alone is enough to sweep you away to paradise. Put your feet up, and take a bite! Happy indulging 🙂 xo
Tags :
Baker
Baking
Buttercream
coconut
Cupcakes
DIY
easy recipe
Hibiscus
Home made
love sweet mess
made from scratch
Recipe
spring
summer
tropical cupcakes
tropical recipe