Pumpkin Almond Date Muffins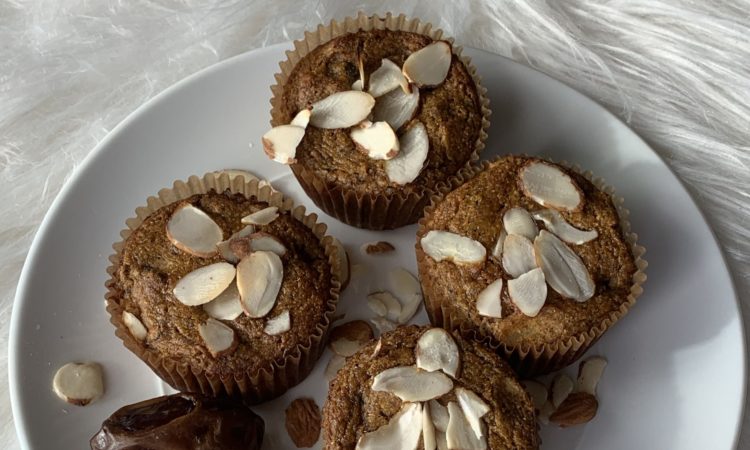 Not ready to ditch baking with pumpkin just because the holidays are over! These muffins are plant-based, vegan, gluten-free, processed sugar free, moist, and delicious.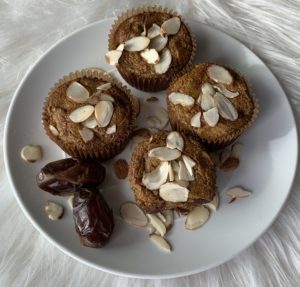 Pumpkin Almond Date Muffins
Yields 8-9 muffins
½ cup pumpkin purée
⅓ cup maple syrup
½ tsp vanilla extract
⅓ tsp almond extract
1 Tbsp coconut oil
1 flax egg (1 Tbsp ground flax seed + 1 Tbsp water)
⅓ cup buckwheat flour
½ tsp salt
½ tsp baking powder
½ tsp baking soda
1 tsp cinnamon
½ tsp nutmeg
¼ cup almond milk
8 dates, chopped
⅓ cup sliced almonds
Preheat oven to 350 degrees. Line 8=9 muffin tins. In a medium-sized bowl mix the pumpkin, maple syrup, vanilla and almond extracts, coconut oil and flax egg until well combined.
In a small bowl combine the flour, salt, baking powder, baking soda, cinnamon, and nutmeg.
Pour the dry ingredients into the wet, slowly add the milk and mix until combined but not over mixed. Fold in the dates and almonds.
Distribute batter into muffin tins filling 2/3 of the tin. Bake at 350 for 10-12 minutes.
Cool on a cooling rack. These muffins are great warm or room temperature.
Enjoy!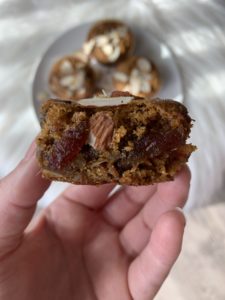 Tags :
baking recipe
Buckwheat Muffins
clean eating
gluten free
Healthy Recipe
Muffin Recipe
New Year Recipe
plant based recipe
Pumpkin Almond Date Muffins
Pumpkin Muffins
Refined Sugar-Free
sugar free
vegan
Winter Recipe