Pumpkin Spice Chocolate Chip Cookies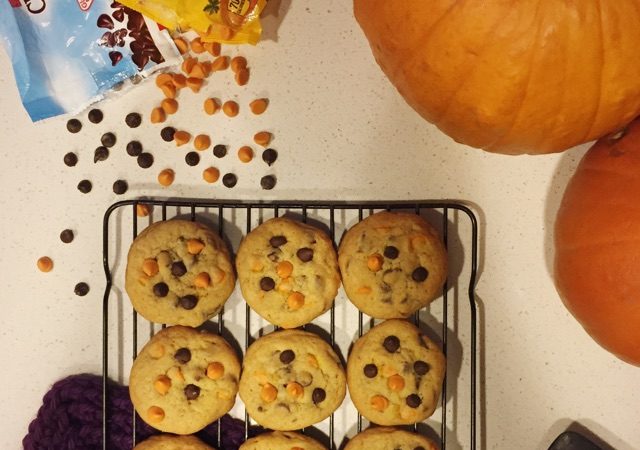 I found pumpkin spice flavored morsels from Nestle Toll House, so of course I had to try them out. They are very flavorful! If you LOVE pumpkin spice, these cookies are your jam. If you are not that gung ho, they might have too much spice for your liking.
Pumpkin Spice Chocolate Chip Cookies
1 cup unsalted butter, softened to room temperature
3/4 cups light brown sugar, packed
3/4 cups granulated sugar
1 teaspoon vanilla extract
2 large eggs
1/4 cup canned pumpkin
1 1/2 teaspoons baking soda
1/2 teaspoon pumpkin pie spice
1/2 teaspoon salt
3 cups all purpose flour
10 oz pumpkin spice morsels
10 oz milk chocolate or semi sweet chocolate morsels
Preheat your oven to 350 degrees. Line a baking sheet with parchment paper. In a medium sized bowl, beat the butter and sugar with an electric mixer. Add the vanilla, eggs, and pumpkin. Blend until well combined. Add the remaining dry ingredients, except the morsels. Once the dry ingredients are combined, but not over mixed stir in the morsels.* Form 1 1/2 inch round balls of dough and space them out evenly on your baking sheet. Bake the cookies for about 10-12 minutes. The smell will fill up your home, and you will instantly be surrounded by the flavors of fall! It made me feel like LA had seasons for a minute 🙂
*I set aside about 1/4 cup of each morsel to stick on the top of the cookies once they were fresh out of the oven. It makes the colors pop like Halloween!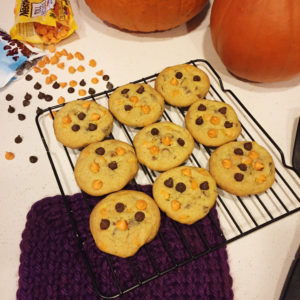 Tags :
Autumn
Baker
Baking
Blogger
chocolate chip
cookies
dessert
Fall
food blog
Halloween
Holiday Baking
kids
love sweet mess
Nestle
pumpkin
pumpkin spice
Recipe
Thanksgiving
Toll House
treat